Jennifer was born August 30, 1961, in Winston-Salem, NC to Don and Parmalee Tuttle. Raised in a Christian home with her three brothers, she started singing with them at a very early age. Jennifer sang with her family, "The Singing Tuttle Family," traveling on a bus across many states and several countries, singing the Gospel of Jesus Christ. She sang with her parents until the age of 52.
Jennifer was employed at Piedmont Airlines when she met her husband, Randall Gentle. They were married for 27 years until his sudden death from a heart attack in 2015. They have four talented children, Caleb, Rachael, Gabriel, and Hannah. They have one Son in-Love, Tres Ward who is married to Rachael.
Jennifer is a 1981 graduate of Emmanuel College in Franklin Springs, GA. She was a member of The Emmanuel Singers, blessed to travel and sing in many churches across the States. She was in the Miss Emmanuel Pageant for two years. She won First Runner Up in the Pageant in 1980.
Following her singing career with her parents, Jennifer sang for 15 years with Total Praise in Song, where they recorded a CD. She continues in song ministry today with Tres and Rachael, known as Legacy.  Jennifer is also a part of the IPHC (International Pentecostal Holiness Church) Missions Department where she travels nationally and internationally holding women's conferences where she speaks and sings in a group called Beyond Praise.
Jennifer is the Regional Director of North Carolina Empowering Women. The purpose of this Ministry is to bring together women who feel that God has called them to divine purpose in the Body of Christ.
Jennifer is a licensed minister with His Song Ministries out of Cleveland, TN. It is her heart's desire and passion to be used to enlarge the Kingdom of God by leading the lost to be saved. She ministers across the states in churches, on the mission field, and at many ladies' retreats.  As a part of this desire that she has for others, and following her husband's death in 2015, she started a group called Ladies of Hope. They meet in a restaurant in Winston-Salem monthly where she ministers to ladies by singing and giving a message of Hope. Two of her favorite scriptures that mean so much to her are Matthew 6:33… "But seek ye first the Kingdom of God, and His righteousness, and all these things shall be added unto you," and Jeremiah 29:13…. "You will seek Me and find Me when you seek Me with all of your heart."
When Jennifer is not ministering, she is with family and friends. Her greatest memories to date are being in the home of her parents and all of their families, singing around the grand piano, the songs of Zion, reminiscing and laughing, and being full of love and joy. Jennifer loves to travel and see the beautiful scenes of God's creation.
Jennifer is honored and feels that it is a blessed opportunity by God to be a part of Ms Senior America.  She hopes that as Ms North Carolina Senior America 2023, she can encourage and inspire ladies across the world, that with God on their side and love in their hearts for themselves as well as others, "The Best Is Yet To Come."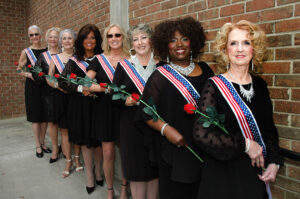 CLASS OF 2023 back to front:
Pat Wilson, Suzi Wallace Fire, Shirley Cook, Jennifer Tuttle Gentle, Cheryl Mills, Sherry Beck, Ronnetta Walker, Rebecca Handley.